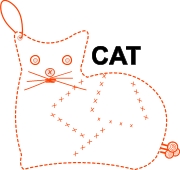 Textiles - CAT
I've been experimenting with making just a few cats...these lovelies are machine stitched and finished with a hand embroidered cross stitch.
Material for the body of CAT include cottons / linens and corduroy. I have used safety eyes with metal washers for the eyes and a cushion filling / stuffing for the inner being of CAT.
Handmade by me, each comes with it's own curious character!